Order Today, Limited Supply!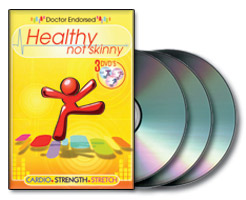 This revolutionary "Healthy not Skinny" exercise series was designed for non-traditional body types. With no pressure, you now have the opportunity to move from Beginner to Intermediate to Advanced, all at your own pace, in your own home. The 3 easy to use DVD's included in this program allow for optimum health.
The 3 DVD set is available for $29.97 $19.97 plus $5 shipping in the USA.
Available through secure transaction at PayPal (Credit Card orders accepted, registration not required) using the button up to the right.
Cardio

Ascend into health! No more worries about using machines that don't fit your style. With the Healthy not Skinny cardio video, your only challenge is when to actually enjoy the new moves you will learn. A routine of walking, stepping and easy bending are offered to provide you with a maximum output and minimum effort.

Strength

Empower yourself! The Healthy not Skinny strength video will boost your energy as you learn proper weight lifting techniques and build endurance. Take action to improve your muscle function as you burn calories and build self-esteem with this exciting easy routine.


Stretch

Tone up! The Healthy not Skinny stretch video becomes your personal trainer to provide a core workout for overall balance and coordination. Incorporating an inspiring approach to one-on-one instruction, this video provides specific techniques for the flexibility that your body requires for harmonious movement.