Summertime and the Living is Easy!
It's tangible and yummy. Beth is one of those friends. Beth and I grew up together playing street hockey with our brothers AND going to dancing school. It's the kind of friendship where you know in your heart you can rely deeply on one another – to celebrate the greatness and soften the tough times. And we are still jumping for joy! Reach out to your friends – even if you haven't seen or spoken with them in a long time. They will be grateful to hear from you for indeed – we are all ONE!
Meet Dan Nevins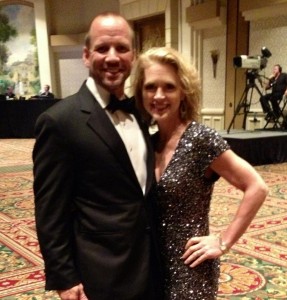 At the National Speakers Association Convention in San Diego, I was honored to meet Dan Nevins from the Wounded Warrior Project. Dan was serving in Iraq in 2004 when the 18,000 lb. vehicle he was in drove over an IED. The explosion sent him flying out of the vehicle and killed one of his comrades. He ultimately lost both legs below the knee. I was fortunate to share the dance floor with Dan and appreciated his honesty in discussing his movement. "We all have the power to be amazing human beings," says Dan. And indeed he lives this motto every day of his life.
I was once again reminded of how blessed I am to live as a woman in this country where dancing is legal. And I was reminded of how grateful I am to the men and women who serve this nation so I may continue to live in freedom.
I am humbled by his willingness to share his story and inspire others to live their best lives. If my grandmother were still alive she would be hugging him, thanking him and waving the American flag. You are indeed a hero Dan. God bless you and God bless the United States of America.
You Have to See This!
"I was getting a lot of pressure to be someone I'm not, both musically and image-wise." – Grammy Award-winning, singer-songwriter Colbie Caillat is tired of being photoshopped, here's what she did about it…
Moving Forward
The richness of friendship and the organizations I serve inspire and sustain me. As human beings, we have much to share and learn from one another and yet often we hold back from creating relationships for fear of being hurt, not liked, or the feeling of not being good enough. But you have to get out of your own way and take the chance to reach out and connect. Yes it's true – not everyone will love you up. But keep trying until you find the friends and the relationships that nourish and support you. When it works, you can feel what it is like to be held in friendship.
In the year ahead, I am serving as the Chair of the Chapter Leadership Committee for the National Speakers Association for 2014-2015. I'm leading a team of 16 who work with the 37 national chapters of our organization – helping chapters and chapter leaders to thrive.
I'll be returning to my dance roots teaching jazz dance at Berkshire Pulse July 21-25. I think I got a bit excited after dancing again in San Francisco! :)
Wishing you all a movement filled summer! May you be blessed with family and friends that love and support you unconditionally!
Yours in health,

(I know…this is not exactly what a pause looks like..:)