YES!!!
I did it!  I am now a Certified Speaking Professional (CSP) with the National Speakers Association and you cheered me on all the way!
The CSP designation is earned through demonstrating competence in professional standards:
Platform skills
Business management
Education
Association
It also included documenting the following:
250 paid presentations over the past 10 years.
60 minute video demonstration in front of a live audience.
20 completed evaluations from clients and audience members.
And earnings from paid presentations to hit a certain financial level for 5 of the 10 years.
I am the ONLY female to hold both the CSP from NSA and the Accredited Speaker designation from Toastmasters International (2010).
For every event you attended…
For every speech you listened to…
For every encouraging word you spoke to me…
I stand here today because of you!
With my sincere gratitude to you. I couldn't have done it without you!
Family, Friends & Celebrations!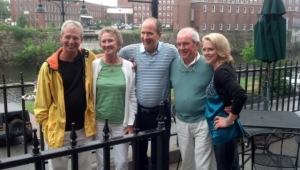 Family can be defined in so many ways.  Relatives, organizations of people, close friends, sororities, and groups with a common interest I often refer to as "family."  But there was something super special this summer when my parents celebrated their 55th wedding anniversary.  We were blessed to all be together for a luncheon – and for a brief moment, it was like I was transported back in time as I laughed and reminisced with my brothers once again.
I'm also celebrating 30 years living in New York City!  I arrived in 1985 to pursue my dance career and Michele, my AXO sorority sister from UMASS Amherst,  joined me.  I danced with the Danny Buraczeski Jazz Dance Company and worked at the Blue Note Jazz Club on West 3rd when the dance company was not touring. I later shared an apartment with my dear friend Tamara who I met through an ad in the Village Voice, and the rest is history!  We had a lovely time celebrating our lives and times together.
For me, these are the moments, the pearls, that link our hearts together.  Celebrate your family, friends and life achievements!  It truly gives you a sense of purpose and gratitude.
Plus is Equal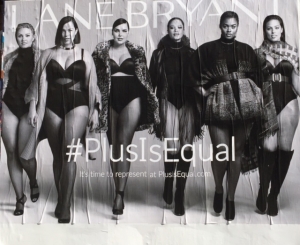 If you haven't seen this, you really need to!  The Plus Is Equal Campaign was launched by Lane Bryant and this amazing billboard was all over New York! And the video is super sexy in my humble opinion!
Size inclusion is an important message for all women.  Let's continue to reshape the media.
Let's keep the conversation going.  Are you in?  #PlusIsEqual
Moving Forward – Heart Your Body
I'm thrilled to announce I will be speaking and teaching at Canyon Ranch in Lenox, MA January 21-24, 2016.  Polls say 97% of women don't like their bodies, so we have created the Heart Your Body Event, filled with inspiring presentations and interactive classes to help you rise above unrealistic supermodel images and love the body you have.
You will have the opportunity to share meaningful discussions about negative self-talk, daily motivation walks, strategies for movement that don't involve the gym, and a tutus and tiaras dance class that's fun and liberating. Join me for dinners at my "Table Full of Acceptance," and finish the experience with closing thoughts and an invitation to write yourself a Dear Body letter – to be read three months later.  I would love to have you join me!  Contact the office for our group rate.
Wishing you a month filled with peace and breath.
Yours in health,