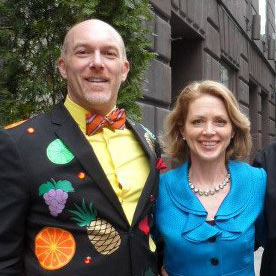 Thank you for being part of our Divabetic Team! Last year, we gained national attention due to the success of our outreach program, 'Divabetic – Makeover Your Diabetes', which we presented in eight major US cities through sponsorship from Novo Nordisk. We reached thousands of women affected by diabetes across the country.

Your ability to deliver your "movement message" to our Divas strengthened the hearts and bodies of women affected by diabetes. This population is not only underserved but often overlooked when it comes to living an active lifestyle. Your use of invitational and size sensitive language inspires women to move their bodies in a fun and pleasurable style. You are passionate in your work and have the ability to motivate all people to move – no matter their level of mobility.

Thank you for helping to spark interest in better care for our Divas and to lift the spirits of women affected by diabetes and their loved ones.
You give me courage, the way is not easy.
Rochelle is a very dedicated speaker, probably because she has such a belief in her topics and such a strong desire to share, educate and convince. With all of this, Rochelle still comes off as a regular person, not intimidating or judgmental in anyway. She speaks with a sincere and homey, "I'm just like you" perspective, and weaves into her talks personal and everyday examples of her experiences, both successful and not successful, with the issues at hand. You can always expect to chuckle a bit during one of Rochelle's speeches, you will always feel comfortable, safe and not threatened… and you walk away with much "meat" to continue to digest long afterwards!

Rochelle's passion, knowledge and true caring about both her subject matter and her audience comes through so each time she speaks, and clearly makes her the superior "par excellence" speaker that she is!
Thank you for being who you are. I was only in class with you for a short while — but man oh man what a huge impact you've had in my life. The changes in my health, the steps I've taken in taking care of myself, my self-esteem, I can draw a direct line back to you.

You're doing a great thing for women. Thanks for being there for us.
On behalf of Contemporary Forms, I want to thank you for participating in our preconference "Contemporary Approaches for Encouraging Physical Activity in Obese and Overweight Patients." This was the first time we presented an exercise preconference and the response was indeed positive.

Your personal approach added to the conference in terms of making it more holistic and patient centered. Your presentation was engaging and helped our health professionals think differently when working with the overweight population. You are very motivating and did an excellent job bridging the gap between the patient and their health provider when it comes to leading an active lifestyle. It is clear you are passionate about your work and uphold a level of compassion for your clients.

Thank you again for your contribution to our successful conference. I am confident we could work together again in the future.
This morning I was scrubbing my bathtub, which is longer than normal, which means it's usually hard to reach the back of the tub and still be able to rinse the sponge at the front without turning around, since I'm not so tall. I had myself maneuvered in a way so I could reach both ends without getting up, and I realized I was stretched into a modified version of the pigeon pose we've been doing in yoga! It just seemed like such an odd time to be using any kind of asana, and yet so appropriate that it is so pragmatic.
The work I did with you has made an enormous difference in my life. I am eternally grateful.
Thank you very much for speaking at the Julliard School. Your presentation, "Finding Your Authentic Voice," was a great success with our students. Your knowledge of the body and how it can be used to strengthen one's communication was powerfully articulated.

Although I know your work focuses primarily on health for women, your ability to deliver to our student body shows your breadth of awareness and comprehension in your presentation skills. You know who your audience is and how to best deliver your commanding message.

Again, my sincere thanks to you. All the very best to you in your speaking career.
I know, when I think back to that my intro session and how I couldn't move at all I realize how much I owe to you and your program. Thank you.
My work site is a converted factory building. In theory this is great because we must use the stairs, the elevator is for freight. Previously my up and down was stiff and slow and just not pretty to witness. Today as I breezed up and down I noticed how light, strong and great I feel. A coworker moved aside and remarked how fast I was moving.

Thanks Rochelle!
Thank you very much for presenting your speech "Breathe and Eat." Your awareness, knowledge and passion make it possible for our women to embrace a deeper understanding of their bodies. Often, weight management programs deliver with a sense of guilt and shame. Your size sensitivity and compassion create possibilities for women to come to a healing place within themselves.
I joined your movement program in January '08. I took one class a week through August '08. I began personal training sessions with you in August of 08. I began my 2nd class per week in September '08 and came off meds beginning in January '09. I was weaned off two medications I had been taking for 10 years. Thank you Rochelle!
Thank you so much for being my teacher. For supporting me and for being so positive and giving. Thank you for showing me and everyone else how much you love what you do! You are such a gifted teacher and trainer and I want you to know how important you are to me. For a long time I struggled with not feeling like I belonged in any fitness classes and I was so relieved and blessed when I found you. I am very honored to be a part of the community you created for us and want you to know I fully support your efforts to provide a safe space for plus sized women to move their bodies. I also want to thank you for providing me with a growing opportunity to bring my fitness to another level, accommodating my increasing strength and endurance as well as continuing to accommodate others who are at other levels. I look forward to your classes so much. I feel so calm and relaxed and centered in my body when I take your classes. You made it ok for me to be in my body and love my body. I hope you know how important you are to me, to all of us. Thank you so much.
I just wanted to take a minute and thank you for conducting the workshop yesterday at Nassau BOCES. I truly enjoyed the event and left the office yesterday with a skip in my step.

Your timing was perfect for so many of us working moms that are getting ready to fall into the hustle and bustle of the holiday rush. It's been 24 hours since your workshop and as I sit at my desk today, I am already aware of how I am carrying myself, how I am sitting and even how I am maneuvering around my work space. I am reminded to get up and stretch and that it's okay to take a minute to breathe. To be able to apply a few of your simple suggestions into my daily routine can only be the start of something wonderful for myself, both professionally as well as personally. Again, thank you from the "bottom of my heart to the top of my clavicle"! It was fun!