Emotional Eating Seminar:
Blending Movement, Nutrition and Mental Health for Optimal Wellbeing
with Rochelle Rice, MA, Jeanette Bronée, CHHC and Karol Ward, LCSW
October 5-6, 2013
My History: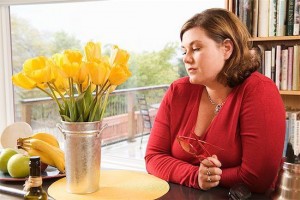 Since 1995, I have been working passionately with the plus size population.  The foundation of my work is movement – how can I help a woman move through space with grace and ease in the body she has right now.  I believe women of size have the right to a movement program that works for her body as it is, right now, today.
But for years, I personally struggled with bulimia, hiding behind the cruel comfort of food.  Secretly, like a princess waiting to be rescued, I kept hoping someone would come along and save me from the emotional dragon banging on my door.  But no one and nothing could save me, and in my self-destructiveness, I virtually abandoned myself.
Over the years, it has been the continuous blend of movement, nutrition and mental health that have shaped my path.  I continue to believe the more I learn about myself, the better I am at supporting you in your quest for health.
This Emotional Eating Seminar is for you if:
You've spent a lifetime struggling with your weight.
Food is your secret lover or best friend.
You have felt hopeless and powerless over food.
You are exhausted by the chaotic behavior.
You have searched endlessly for the "solution".
You want more clarity around your confusing relationship with food.
The Faculty:
Rochelle Rice, MA, President of In Fitness & In Health
Rochelle Rice, MA is the President of In Fitness & In Health in New York City. She is a nationally recognized speaker, author and educator for the plus-size population and the author of Real Fitness for Real Women. Rochelle earned her Master's Degree at NYU specializing in her Plus-Size Exercise Program. She is an advance Somatic Experience Practitioner and a graduate of the CHRIS ® Technique and has been working passionately with the plus population since 1997.
Rochelle has appeared on Fox News, ABC World News Tonight and the CBS Early Show. She has written numerous articles for IDEA Fitness Journal and the ACE Fitness Blog. She has spoken at IDEA, ACSM and the Medical Fitness Association conferences.
Rochelle is a member of the National Speakers Association and an Accredited Speaker with Toastmasters International. She is also a member of IDEA, The Association for Size Diversity and Health (ASDAH), the National Association to Advance Fat Acceptance (NAAFA) and the Binge Eating Disorder Association (BEDA).
Jeanette Bronée, CHHC
Nourishment Counselor, Founder of Path for Life.
Jeanette Bronée founded Path for Life in 2004 in an effort to bring more consciousness to our own power for healing. An inspiring Nourishment Counselor and Health Advocate, her work is an integration of teaching food knowledge, mindfulness, and habit-shifting. She has developed the 9-step Path for Life SelfNourishment Program, which gently guides and encourages her clients through the process of transforming their relationship to food, and to themselves.
Board certified with the AADP from the Institute of Integrative Nutrition since 2004, Certified Meta-Medicine Coach®, Ericksonian Hypnotherapist, and EFT practitioner. She is also certified in Connective Healing and Intuitive Counseling with Tom Monte, Trained in Macrobiotics and Energy Psychology, and in the process of becoming a Focusing Therapist.
The 9-step Path for Life program is now available as an on-line SelfNourishment Program, giving more people access to this transforming process, which until now only has been available as personal sessions.
http://selfnourishment.pathforlife.com
Karol Ward, L.C.S.W. is a licensed psychotherapist, professional speaker, and communication skills consultant. She is the author of Worried Sick (Berkley, 2010) and Find Your Inner Voice (Career Press, 2009).  Karol has appeared as psychological and communication expert on CNN, NBC, ABC, Fox News, Good Day New York along with numerous radio programs. She has been featured in such publications as Cosmopolitan, The Wall Street Journal, US News & World Report, Women's Day The New York Daily News, Yoga Journal and Spirituality & Health.
In addition she has contributed to Oprah.com, iVillage, Shape.com, NBC.com, Sheknows.com, and FoxNews.com.
Karol recently delivered a TEDx Talk: Finding Your Inner Voice, which focused on the power of the body-mind connection and has created a stress reduction MP3/CD called: Your Inner Voice: How Your Body Speaks Its Mind.  www.karolward.com
What you will learn:
I have personally worked with both Jeanette and Karol.  Many of my clients have also worked with these women.  We have presented together at Full, Fit & Fabulous in New York City where we first introduced this idea of blending the movement, nutrition and mental health.  Jeanette and Karol are extremely professional, authentic and straightforward – delivering the right amount of information at the appropriate time and helping you find the freedom within the structure of an eating program.  In this program you will learn:
How movement can be the catalyst for blending these three modalities.
How and why to eat differently so you can make your own unique choices, and achieve a shift in your life.
The power of boundaries, the strength in asking, and the direct application to your food choices.
The ability to blend movement, nutrition and mental health from the inside out.
Food:
You are welcome to bring food or go out locally to get it and bring it back for the lunch on Saturday.  The lunch will be Rochelle's Breathe & Eat: A Mindful Eating Program.  You would be responsible for the cost of the food.  Details to follow.  Snack and lunch on Sunday will be in the same Breathe & Eat format.
Format:*
Saturday, October 5, 2013, 10:00am – 5:00pm
10:00am – Welcome and Overview
10:30am – Yoga with Rochelle Rice
11:30am – Jeanette Bronee
1:00pm – Break/Breathe & Eat – Rochelle Rice
2:30pm – Karol Ward
4:00pm – Workbook, Journal, Q & A
4:30pm – Putting it all together with Movement
5:00pm – Close
Sunday, October 6, 2013, 11:00am – 4:00pm
11:00am – Yoga with Rochelle
12:00pm – Jeanette Bronee
1:00pm – Break/Breathe & Eat – Rochelle Rice
2:30 – Karol Ward
3:00 – Putting it all together
4:00pm – Close
*Schedule may change slightly depending on the size of the group.  If so, you will be notified in advance.
Location:
Jolly Madison Hotel
22 East 38th St between Park and Madison
New York, NY
Registration Closed!
Successful Event!
Fee: $297
Register BEFORE September 28th and as a bonus you will receive registration to Full, Fit & Fabulous, Saturday, January 18, 2014. (Transferable but not reimbursable or credited.  Value: $99).
Payment:  one payment of $297 or 3 easy payments of $99.
Cancellation Policy:
A 48-hour cancellation notice is required to cancel from the entire program.